AFFORDABLE

PRICES

FRIENDLY

& TIDY

WORK

GUARANTEED

LATEST

TECHNOLOGY
IS YOUR FARNBOROUGH WOODEN FLOOR HIDDEN UNDER THE DIRT AND GRIME OF THE AGES, STRUGGLING TO MAKE ITS PRESENCE FELT IN YOUR HOME?
Has it been abused and neglected for years, just waiting for liberation to come? Free it now by calling on the services of the Farnborough floor sanding and finishing experts.
We've been restoring and sanding wooden floors in Farnborough for 20 years now and know the area's timber flooring like the back of our hand. We give homes and businesses across the area an affordable, thoroughly professional service for all their wooden flooring needs and use the very latest dust-free equipment to minimise mess.
Our stains and finishes are friendly to the environment in line with our strict green policy and we're past experts at bringing any tired old wooden floor back to glorious life. We carry out repairs, sanding and finishing quickly and efficiently and you'll hardly know that we were there.
SERIOUS DELIVERY
The GU14 Farnborough floor sanding company's two decades of experience are backed up by a solid commitment to stay at the top of our profession and we're achieved membership of several industry organisations along the way, including:
· The Guild of Master Craftsmen
· The Federation of Small Businesses
· The National Wood Flooring Association
· A Junckers Approved Maintenance Contractor
​To inspire further customer confidence we also carry no less than £5million of insurance cover. Check out a few of our genuine customer Testimonials to see why we inspire such confidence in our clients.
​THE BEST SERVICE
​Whether you want to spruce up some pine, polish a piece of vintage parquet, get a new wooden floor for your lounge or have a full renovation of your ballroom we'll approach the task with the same expertise and commitment. Our team of floor sanding experts in Farnborough take on all tasks with equal gusto, and it all starts with you booking a free on-site, no-obligation assessment.
​To find out more on wood floor sanding and finishing in Farnborough, contact us to ask questions and book your free assessment today. You'll have a sparkling new wooden floor in next to no time!
LATEST NEWS, RECOMMENDED ARTICLES & TIPS
Want to sand your floors by hand? Here's how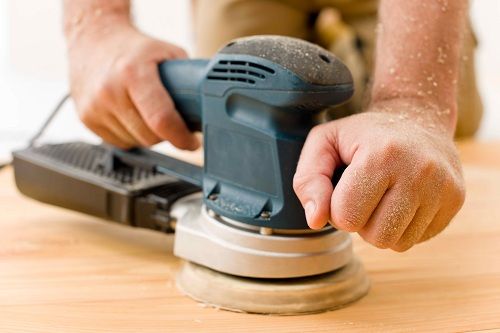 Are you terrified of belt and drum sanders? Then the chances are you're considering sanding your floors by hand. Although it's not an impossible task, it is a highly time consuming one and you need to choose the right equipment and use the right technique to end up with floors you can be proud of.

Choosing the correct hand sander for the job

Your detail sander is a great tool for stripping away the old finish in hard to reach places, but can it tackle sanding a whole floor? Not unless you have six months to spare, and even then you'll never create a smooth surface for refinishing as this tool simply doesn't have enough power. If you're serious about sanding your floor by hand then you'll need to use either an orbital sander, a palm sander or a handheld belt sander.

Hand sander rundown

• The orbital sander: this tool is great for roughing up small areas of the floor, and is the right choice if you need to create a smooth surface for a tabletop. However, it simply doesn't have the resistance to rip the surface off a large area of floor.
• The palm sander: the fixed plate of the palm sander makes it more aggressive than the orbital sander, and their square edge means you can get right into the corners of the room. But compared to a big machine sander it just doesn't have the power to do the job.
• The handheld belt sander: although this machine obviously can't match the speed of a big belt sander, it can actually make a fairly efficient job of sanding your floors. However, it has difficulty getting right into the corners but then you can always use a detail sander or a sanding block for that.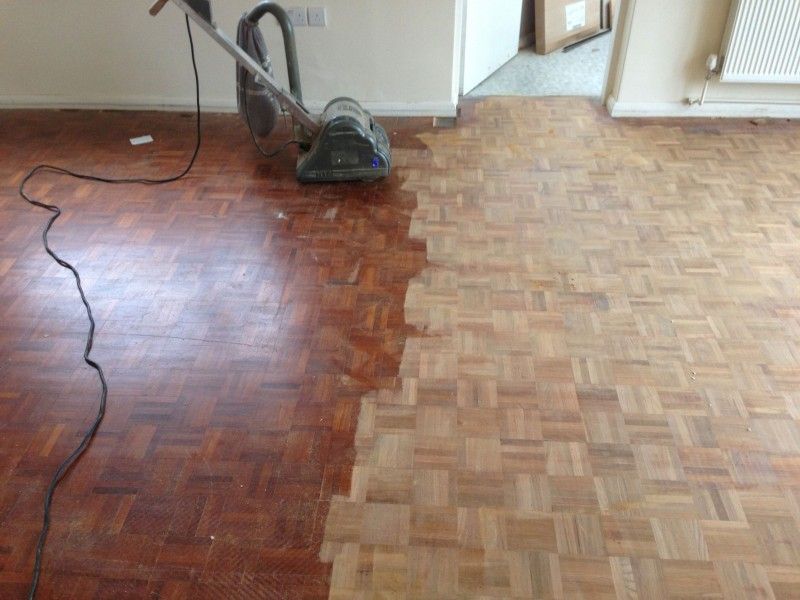 Focus on technique

Just like the big floor sanding machines, you'll need to keep these handheld sanders moving for the best effect. Always sand with the grain and don't even think about starting the job with anything other than 40 grit sandpaper or you'll have no chance of creating the finish you want.

Now sand through the grits as usual because jumping from 40 grit to 100 grit will produce a terrible result. Check you've removed all the varnish by rubbing a spot with a moistened finger - wood will darken, whereas varnish will not.
Although it is perfectly possible to do the job with a hand sander, it's highly time-consuming and can't deal with deep-seated scratches or heavy varnish. If that sounds like your floor, then hire dust-free floor sanding equipment or a floor sanding specialist.
For Beautiful Wooden Floors Call 020 3151 7990 Now !
BEFORE & AFTER
Farnborough Floor Sanding